Claims Appeal Services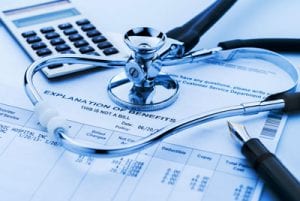 Once an initial claim determination is made, beneficiaries, providers and suppliers have the right to appeal Medicare and/or Insurance coverage and payment decisions. Because of the claims appeal time constraints placed on healthcare providers, it's crucial that the health provider's billing staff is current with their accounts receivable revenue cycle and medical coders are current with the latest coding requirements, especially for specialty medical practices.
With these time constraints placed by health insurance companies and the expertise needed in billing and coding, it has become a necessity for physicians and surgical practices to have a certified medical coder who is knowledgeable in the claims appeal process and who remains current with the most up-to-date Medicare and Insurance procedure codes and modifiers.  An experienced coder will assure the denied claim is resolved in a timely manner.  A medical A/R management team who stays current with the accounts receivable cycle should act as back-up to the medical coder, alerting the coder to any denied claims, including the initial denial date in order to address the denied claim in a timely manner.
Time is the biggest factor in getting a denied claim reviewed and paid. If not submitted within the specified claims appeals days, the denied claim will simply be denied for "timely filing" and all possible revenue from the performed procedure will be lost.
Expert Medical Billing and Coding & A/R Management Assures Smooth Claims Appeals Processes
It's imperative to have a professional medical billing, medical coding and A/R management team who understands and can navigate the complexities of the claims appeals process effortlessly with success. Working closely with your practice, our professional medical practice management experts who specialize in medical, surgical and specialty practices and facilities will assure that denied claims are resubmitted in a timely fashion. Utilizing the correct procedure codes, modifiers and supporting documentation will result in your practice receiving the maximum allowable revenue for the medical services performed while remaining compliant.
Medicare & Medicaid Denials and RAC Appeal Process
Knowledge of current Medicare and insurance appeals processes is also crucial for the medical billing and coding team. When Medicare claims are denied or a Recovery Audit Contractor (RAC) identifies a previous Medicare overpayment, physicians may initiate an appeal with their Medicare carrier. Appealing a denied claim or RAC audit can be a multi-step process. There are five levels in the Medicare Part A and Part B appeals process.
First Level of Appeal:  Redetermination by a Medicare carrier, fiscal intermediary (FI), or Medicare Administrative Contractor (MAC)
Second Level of Appeal:  Reconsideration by a Qualified Independent Contractor (QIC)
Third Level of Appeal:  Hearing by an Administrative Law Judge (ALJ) in the Office of Medicare Hearings and Appeals
Fourth Level of Appeal: Review by the Medicare Appeals Council
Fifth Level of Appeal:  Judicial Review in Federal District Court
Navigating RAC, MAC, QIC complexities of Medicare Denials and Overpayment Requests
Navigating the complexities of a Medicare or Medicaid denial can be overwhelming. Global Health Management Services professional medical coding and billing claims appeals experts can initiate the claims appeals process effortlessly. The GHMS team will file Medicare Redeterminations which include submitting the request for a redetermination filed either on Form CMS-20027 or on a written request with required elements listed by Medicare sent to the FI, carrier or MAC that made the initial claim determination. We will also file a written Request for Reconsideration to Medicare with a QIC within 180 days of receipt of the redetermination on the standard form CMS-20033, clearly explaining why your office disagrees with the redetermination and will include the copy of the MRN and useful documentation.
Expert Claim Appeals Services
At GHMS, our Medical Practice Management team offers expert Claims Appeals Services, assuring your medical practice receives the maximum allowable reimbursement for your medical practice facility.  Our Certified Medical Coders and expert A/R Management and Medical Billing professionals are proficient in handling RAC Appeals, redeterminations with MAC, reconsiderations with QIC and in responding to denied insurance claims in a timely fashion with the accuracy defined by the insurance providers.