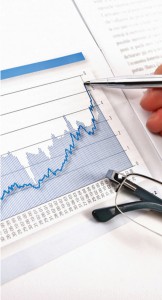 Business Intelligence – Seeing the True Big Picture
The methodology of the GHMS Healthcare Practice Analytics team is to utilize the data created and entered by the practice and the payers to paint a visual picture for everyone involved in order to review the overall health of the practice. This provides opportunities for achieving the goals of increased revenue capabilities, assured rules compliance, and reduced operational costs along with a multitude of benefits as outlined below.
Business Intelligence Benefits:
Allows the practice to manage their patient population by tracking provider performance on many clinical quality measures.
Creates the ability to compare clinical providers across one practice or many practices, as well as track performance against predetermined goals.
Improves clinical performance and patient outcome by seeing trends of performance over time.
Transforms patient data entered in practice management systems into meaningful information that drives improvement in clinical and financial outcomes.
Procures insightful financial views of cost and profitability.
Monitors Contract Reimbursements.
Ease of revenue opportunities analysis.
Quick production of ad-hoc reports for unique information requests.
Saves significant time from having to manually compile financial reports.
Provides fact-based decision support.
Delivers insightful performance views of your most important processes.
Tracks the results of initiatives with performance goals.
A/R and reimbursement analysis:
Global Health provides an A/R benchmark analysis that identifies how your practice AR compares to similar specialties and locations.
Are you collecting the correct payments towards your contracted fee schedules?
Know the payers with whom you need to re-negotiate payer allowances in order to adhere to regional and national benchmarks for your specialty.
Clinicians provide clinical services to patients that evolve into business office tasks which generate insurance claims, patient statements and multiple goals. Two of the most important goals are to recover revenue for the practice and to encourage continued support of patients by the clinician within the healthcare sector. A third goal gaining in popularity is superior quality of care provided by healthcare practitioners. Each goal requires separate identifiers to meet payer and government requirements demonstrating quality, reimbursement for services and maintenance of the highest level of reimbursement.
Specific key indicators to watch in practice style executive dashboards:
Days in A/R by site, by payer
Visit counts
Payer mix
Revenue per case
Revenue per payer per case
Revenue per procedure type
Charge lag times
Denial rates and types
Bad debt trending
Expected remaining payments
Quality identifiers such as PQRS achievements
Cancelled cases
There are many more KPIs to report against and each KPI should have a benchmark, either based on historical data or projection targets.
Global Health Management Services has developed customized Executive Dashboard services available to any size healthcare organization or provider(s). Due to the approach and experience GHMS has with analytics in the healthcare sector, we are able to develop the dashboards you need at the lowest expense possible. In most cases, our dashboards pay for themselves within 30 days, by reducing ongoing expenses and highlighting opportunities for enhanced revenue and operational workflow.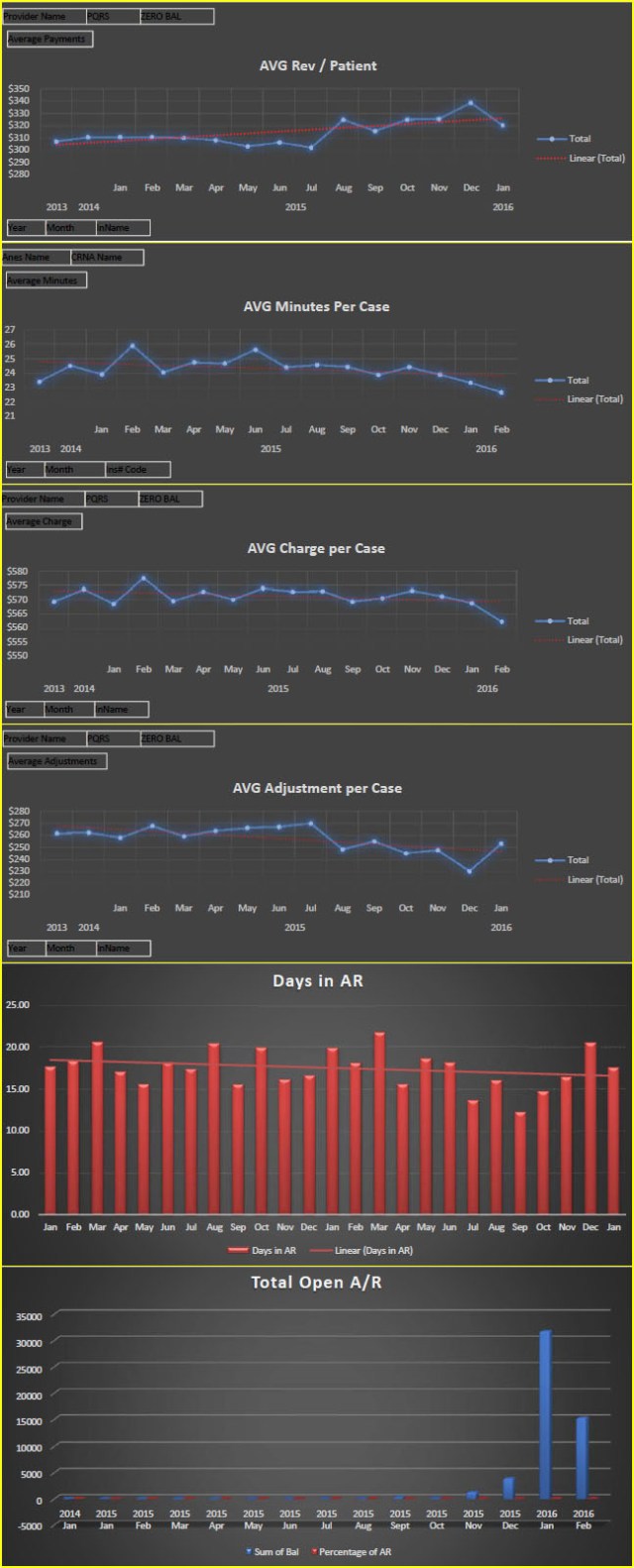 Workflow Analysis
Global Health's Workflow Analysis will streamline your practice operations, guaranteeing a reduction in operational expenses resulting in maximized bottom line profits.
Global Health analyzes and provides insights into your practice and provider workflows to enhance productivity, effectiveness and revenue maximizing solutions.
Global Health identifies payer productivity and ranking while assisting you in deciding which payers need to be re-negotiated and which payers are draining valuable resources from your practice.
Healthcare staff require tools and techniques to work smarter in today's environment. Global Health delivers transparency in staff-related workflows to ensure optimized work levels. We can help your practice to renovate its workforce by utilizing the proper tools throughout the entire organization.
Dashboard Reporting – Effective workflows and practice insight
Data drives profit! Global Health provides your practice with Dashboards that offer valuable insights for optimizing efficiency and earnings.
Clinical Optimization
Global Health Dashboards give healthcare providers an enhanced view into each office practitioner and their performance within the practice.
Business Office Optimization
Global Health reviews trends in your practice that cause lost revenue affecting repeated delays in reimbursement from diagnosis issues, coding bundling and unbundling, schedule no-shows and schedule downtime that cause lost revenue.
Global Health optimizes staff productivity by identifying and acknowledging star clinical and operations performers, individuals needing further development and those depleting resources.
Let Global Health compare for you payers' reimbursements against each of your major payers and demonstrate how this affects and translates into practice positive and negative payer cash flow.
Trend any Key Performance Indicator (KPI) in your practice.
Knowledge provides the impetus for transformative change that drives stronger team performance, better payers negotiating power and less bad debt among patients, ultimately creating a successful medical organization that has the ability to chart its own course
"I could not imagine a practice surviving in the near future without analytics. Data drives profit. In this case, using analytics to manage your organization can mean the difference between being an independent practice or needing to sell the practice. Further, if you are in the market to sell your organization, you'll need analytics to increase your margins to look attractive to a buyer."

Jim Malloy
CEO & Partner
Global Health Management Services
---
"Effective, efficient billing presents many challenges, and having a Billing Vendor like Global, who can be trusted to bring an efficient and effective organization and provide you with clarity on many murky issues is invaluable.

Whether you are a start up or a transfer you can expect a seamless transition for your billing functions.  The custom reports that are available with Global provide you with the ability to understand and monitor every aspect of your business.  Whether you wish to track variable costs, non-implant revenue, non-billable implants, or some other metric unique to your business Global has the capability to make that happen. They can help you decided what you should be measuring and monitoring and Global will also keep you informed of market trends.

They truly are the complete package."

Ambulatory Surgical Center
Administrator / Lead Anesthesiologist